Happy Fourth of July Y'all!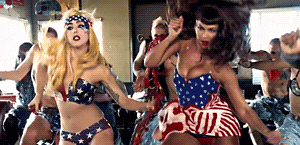 Now that we've all recovered from the mid-week 4th of July celebrations and are back to the grind, apply some aloe vera to your sun-scorched skin and dig into the latest music releases of the last month (cause there were a TON).
---
"Bed" – Nicki Minaj (feat. Ariana Grande)
As much as we wanted this to slap, unfortunately this ain't no "Side To Side" Part 2. However, we stan this girl duo and I'm looking forward to both of their new albums coming in August!
"The Light is Coming" – Ariana Grande (feat. Nicki Minaj)
The better of the Nicki x Ariana collaborations released this past month. It's a solid buzz single once you get past the annoying sample that repeats throughout the entire song (like really Pharrell, how did that not drive you completely and absolutely NUTS while producing, editing, recording, finalizing, etc. I would've literally abandoned this song all together if I had to listen to that on endless loop). Fun fact, the sample is from the same audio that he took the "Wait a minute" line featured in his song "Lemon" feat. Rihanna – learn something new every day! As far as Ariana and her new album Sweetenergoes, I'm more interested in hearing the next official single "God is a Woman" which is apparently really good (of course she has to say it, but hey Ariana hasn't majorly disappointed us just yet so my hopes are high for this one).
"Right Moves" – Christina Aguilera
While y'all were kissing Drake's ass the last week, you were simultaneously paying complete and utter DUST to Christina's new album Liberation. She really has some fresh new bops if and when you're done pretending Scorpionis an album sent from God. Check out "Sick of Sittin," "Like I Do," "Pipe," "Maria," and "Twice."
"No Angel" – Charli XCX
She done did it again. Paired with the new single "Focus," Charli XCX released more pop perfection yet again. I've been waiting for the official release of "No Angel" for over a year now and it's finally here (I will never forgive artists for performing songs live that they haven't officially released yet).
"BOSS" – The Carters
I will admit I was underwhelmed (borderline disappointed) with The Carter's first joint album. It didn't help that it took them FOREVER to FINALLY release it – and to add salt to the wound, they finally did so AFTER their joint tour started AND they aren't even performing the new songs live… But "BOSS" knocks, and some of their other songs have some saving graces.
Overall, it sounds like an unfinished Jay Z album they asked Bey to join in on to make it better. Sonically it's a mix between Lemonade and 4:44; you could say it's the closing to a three album trilogy about their marriage, infidelity, etc. Nothing ground breaking or earth shattering. Hopefully Beyoncé is cooking something up for her next solo era cause she seems like she just wants to take a nap during her performances on this tour LOL.
"Hurry" – Teyana Taylor
We're going to ignore the feature on this and focus on Teyana's new music because, much like everything else released lately, it's pretty stellar. They're pushing this song as a single but her new mini album has some other goodies like "WTP," "3 Way" and "Never Would Have Made It."
"Boo'd Up" – Ella Mai (Remix feat. Nicki Minaj & Quavo)
When will artists learn that adding rappers to a 'remix' of an already good song doesn't always make it better. While we didn't necessarily ask for this, I can't say I'm particularly upset with it. I do think it will help Ella Mai gain some traction in America, but Nicki Minaj deserves a time out for that outro phone call…. Like, c'mon sis.
"Nonstop" – Drake
Of the 25 songs from Drake's new 10-songs-too-many album, this is a standout and will likely be the one single to take off first. When I was first listening to the album, I thought for some reason the first half was supposed to be the R&B side and was thinking "Wow, I can't imagine what the Rap part is going to sound like if this is the R&B section," and then I got to the actual R&B side of the album and nearly fell asleep at the wheel… There are some good tracks, but he could've (and should've) edited it down to a MAX of 15 songs. No tea no shade (well, some shade).
"Sober" – Demi Lovato
I don't know how to describe this song because it makes me so sad that she is no longer sober, or at least had some sort of slip-up, but at the same time it's such a beautiful song. I really wasn't Team Demi until now, so if anything she's got a new fan to stand behind her. ~lots of love~
"Hunger" – Florence + The Machine
If you didn't release a new album this month you're cancelled (eyes on you @LadyGaga). But seriously, check out Florence's new album instead of listening to the same songs on repeat for the next few weeks – Drake will always be there, I promise. Scorpionisn't going anywhere; you can afford to branch out.
"Growing Pains" – Alessia Cara
I don't know where she went for a while there, but I'm glad she's back and making music.
"Safe" – Daya
Same for Daya, what a cute comeback single. (Apparently she released a newsong last year that nobody cared about, so let's try and help this girl back into the limelight cause "Sit Still, Look Pretty" was great).
"Just Thought You Should Know" – Betty Who
Was not really expecting so much new music from her considering she just released an album late last year, but "Taste" was incredible, and with an EP titled Part One,we can only assume there's more on the way!
"Boys" – Lizzo
I was wondering why they brought Lizzo out of obscurity to guest-host an episode of Drag Racelast month considering her last music release was like 2016, but of course she drops a new single this month. RuPaul her MIND. She's also going to be at Lollapalooza, so I'm holding out for her to spontaneously be added to the ACL 2018 lineup – cause it kind of sucks and I spent a lot of money to go to it in October lol.
"Broke" – Riley Clemmons
I discovered this on the New Music Friday Spotify page while looking for songs to add to a shower playlist (lol) and was not disappointed. Us Riley's gotta stick together – support the good sis Riley clemmons y'all.
"Hotspice" – Nick Lee (feat. Halima)
Now I found this from a friend on Instagram – whose friend is the one that actually produced this. How cool! And even better, it's kind of a bop!
---
As always, thanks for reading and if you're looking for more music you can follow my Spotify account and playlists here.
---
Cover Image Copyright Sony Music and Roc Nation 2018. This blog serves no commercial purpose and all links and media belong to their respective owners.