What a great night for fashion, music, entertainment, celebrity, etc. I couldn't contain myself as the photos started pouring onto the Twittersphere. Below you'll find my favorite looks from last night, followed by music inspired by the 2018 Met Gala "Heavenly Bodies: Fashion and the Catholic Imagination."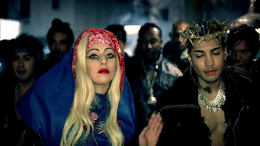 (Or you can just follow my curated playlist now).
Cover Image Copyright Damon Winter/The New York Times 2018.

---
I will start off with an easy one…
RIHANNA: Best Dressed Hands Down.
Year after year she just doesn't disappoint. And she managed to pull this off on top of all the incredible things she's been doing the past year: Fenty Beauty makeup line, Savage x Fenty lingerie line, reportedly working on an all reggae album!!! etc.) That Rihanna reign just won't let up.
---
Some of my other favorites of the night include:
Blake Lively
Gossip Girl is shaking in her BOOTS.
SZA
Honestly just proud of her for even being invited – but she turned out a lewk nonetheless.
Lana Del Rey
Queen of being invited to things even though she hasn't been in the spotlight for years. (This Renaissance-inspired look must've had Kendall Jenner firing her stylist for dressing her in a damn white JUMPSUIT).
Jasmine Sanders
When I tell y'all I gasped… also thought her dress looked like golden laffy taffy – just me?
Jared Leto
Now THIS is what we're talking about. C'mon Jesus!
Chadwick Boseman
Black Panther himself showed up and showed OUT. Proud of him for not dressing like the other 95% of men who came in basic ass tuxedos. Like come on, its the MET GALA ffs.
---
Now onto the music…
I first saw the video Vogue Magazine posted of Rihanna and had to run after my wig to catch it. Then found out Madonna did a surprise performance at the Gala and was reintroduced to "Like a Prayer." So I put together a quick playlist of songs inspired by the Met Gala 2018 and it's theme, "Heavenly Bodies: Fashion and the Catholic Imagination." Enjoy, and follow this playlist (as well as many others) on my Spotify here!
Madonna – "Like A Prayer"
It's a given. Queen of pushing boundaries and pissing off the Catholic church.
Lady Gaga – "Judas"
My only disappointment is that Gaga didn't make an appearance – mainly because she has been giving nods to religious themes in her music and fashion for years now.
Depeche Mode – "Personal Jesus"
One of the songs featured in Vogue Magazine's Instagram video campaign for the Gala. Get yo life to Rihanna strutting around to it below.
Basement Jaxx – "Where's Your Head At"
Another song hand picked by Vogue – and an interesting choice at that. (SZA just makes it that much better)
Beyoncé – "No Angel"
Another no-show which was a big disappointment, cause Beyoncé has turned out some great looks over the years. But after her success at Coachella and with her joint tour with Jay coming in less than a month, mama of the 3 destiny's children is BUSY.
The XX – "Angels"
All the women looked like heavenly angels on the runway. (Except for Nicki, who channeled the devil – but we love a good "bad guy")
Portishead – "Machinegun"
Sticking with the fashion editorial vibe of music choices, I've been sitting on this song for a few years and thought it was fitting.
Coolio – "Gangsta's Paradise"
Fricken Anna Wintour standing in front of a hundred lit church candles to the Gregorian Chants of a COOLIO song… (shoutout to that music appreciation class I took freshman year thinking it was useless – it taught me what a Gregorian Chant is and now, for once, it came in handy)
Theory Hazit – "Choir Chop Thr3e"
I think I watched Lana walk around to this 10 second clip on repeat for a solid 15 minutes before I had the thought to look up the full song.
Azealia Banks – "Anna Wintour"
Speaking of Ms. Wintour, had to pay homage to the Queen B of the event itself. This year sharing the spotlight with co-chairs Amal Clooney and (best-dressed) Rihanna.
---
Thanks for reading along if you've made it this far. You can follow my "Heavenly Bodies" Spotify playlist here or find my other playlists on my profile here. Check out what songs I've been listening to the last month here, and stay tuned for more to come!
---
Cover Image Copyright Damon Winter/The New York Times 2018.