2018 is just flying by. The school semester is over in less than 10 days. And this last month alone blessed us with a ton of new releases. But don't let the list fool you – all this new music and I'm STILL listening to Beyonce's Coachella performance on repeat.
2017 left us thirsty for some new quality music and it's only the fourth month of 2018 and I think it's safe to say I'm…
And there's more and more to come! In the meantime, follow me on Spotify here and dig into my personally curated playlists for all different kinds of moods.
---
Ariana Grande – "No Tears Left To Cry"
I've been waiting for new Ariana since flying all the way to Houston last spring to see her in concert (since I missed the KC date during spring break RIP). There's only so many times you can overplay the best song ever created, "Greedy," so let's just say I'm thankful to have a new AG song to play on repeat till her next album comes out. And the music video is a complete and total bar raiser from how subpar music videos have been the past few years.
Azealia Banks – "Anna Wintour"
I will forever stan for this girl's music (despite her being problematic on social media sometimes – but willing to overlook that if she continues to deliver songs like this). She really has her own groove of music and it's everything I live for when getting ready to go out.
Tell me you don't want to strut down the runway to this.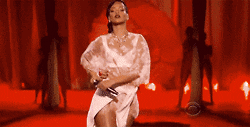 Nicki Minaj – "Chun-Li"
In the theme of female rappers, we welcome back Nicki (FINALLY). We all can use some new Nicki music and miss thing didn't disappoint (though I prefer this to "Barbie Tingz.") The new singles came at the perfect time too. And special shotout to my girl Aliya Janell (@thealiyajanell) for getting on Nicki's radar – and for all the right reasons. I've been following her on Instagram for her INCREDIBLE and I mean OUTRAGEOUS dance skills and here she is bee bopping with Nicki – get yo life girl.
Janelle Monáe – "Django Jane"
More so her entire new album Dirty Computer. So hard to choose a favorite. Janelle is someone to start paying attention to (if you haven't already). She raps, she sings, she knows what she's talking about and she stands for everything we need in the world right now. Her "Emotion Picture" to accompany her new album is incredible, AND SHE'S FROM KANSAS CITY like WHATTTTTT. "Let the vagina have a monologue" – queen.
Calvin Harris (feat. Dua Lipa) – "One Kiss"
What a feel good bop just in time for summer. I'm here for anything and everything that Dua is doing, and Calvin at a close second (If I'm not gonna get Funk Wav Vol 2 then this will have to do!)
Anne-Marie – "2002"
It was way too hard to pick just one song from her debut album but this is her latest single so I settled with this nostalgic jam. Anne-Marie kind of came out of nowhere with her "Rockabye" song but her album is seriously so good, like stop reading and go listen to it from start to finish if you haven't heard it yet. Some of my favorite songs: "Perfect," "Friends," "Bad Girlfriend," and "Can I Get Your Number."
Justine Skye – "Don't Think About It"
Found this album from Tinashe's insta story – and I loved nearly every song on it. This one stood out to me but I'd say the entirety of Ultraviolet is worth giving a listen to.
Liam Payne & J Balvin – "Familiar"
#KEEP REGGAETÓN VIBES ALIVE. Also Liam continues to thrive outside of 1D and more power to J Balvin for jumping to stardom in the US market in a few short months.
Khalid, 6LACK, & Ty Dolla $ign – "OTW"
Khalid knows how to make a catchy song, what else can I say. Sidenote: I still don't know if 6LACK is pronounced "Black" or "Six-lack" ??? Lemme know.
RAY BLK (feat. SG Lewis) – "Chill Out"
Now I'm super into the Lo-Fi trend in music right now and I found this girl and loved her mini album Dirt. It's from 2016 but still sounds very fresh and in tune with whats out there in the field right now.
Kali Uchis (feat. Tyler, The Creator & Bootsy Collins) – "After The Storm"
Love this girl (and am growing to like Tyler) but she was another one to release an album this past month. And again, so good. Also digging the vibes and aesthetic of the video (I actually saw this video on twitter long before I ever found her album and realized this was the song from the video while writing this lol)
Aminé (feat. Injury Reserve) – "Campfire"
I fricken love Aminé. And am a full fan of wigs in any way, shape or form. His debut album had so many good jams and his new music is definitely following suit.
Tinashe – "Joyride"
IT'S FINALLY HERE! Been waiting for this album forever. "Stuck With Me," "No Contest," and "He Don't Want It" are some favorites.
Drake – "Nice for What"
Now I know y'all know this song by now and yes it's a bop but I just wanted to point out the Lauryn Hill sample and Big Freedia tidbits cause y'all giving Drake too much credit.
J. Cole – "ATM"
Why is this video the first time I've seen what he looks like? Also, this song is catchy – I literally learned the lyrics before the song was over the first time I heard it lol. Included this cause I know the kids would be mad if I didn't mention J. Cole's new album release this past month.
Chloe x Halle – "The Kids Are Alright"
Beyoncé's sister-duo protégés finally released their debut album. They've got a cute little vibe going on. And I'll support them just for their performance of the National Anthem at the BET Experience back in 2016.
---
Thanks for reading this month's post. I thought this month was particularly heavy in the new music category but there is SO much more to come – like the potential for a new Lady Gaga song in May (OOP). Ariana's album is coming, Kanye, Drake, Christina Aguilera, Florence & The Machine, still holding out for a Bey & Jay album (lets face it, what we WANT is a new Beyonce album, what we're likely to GET is a joint album), and who could forget NICKI's long awaited comeback. Stay tuned!
---
Cover Image Copyright Republic 2018. This blog serves no commercial purpose and all links and media belong to their respective owners.