Take a look at what new jams I've been listening to over the last month and add some new music to your catalogs (or you can just follow my Spotify playlists here).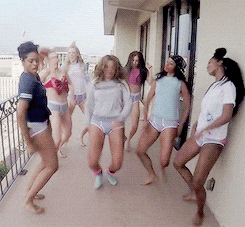 ---
Normani & Khalid – "Loves Lies"
For those of you that don't know, Normani comes from the girl group Fifth Harmony – we love a good solo debut/breakaway from a girl group!! And if y'all can let "Havana" takeover the world, let's not let Normani flop please and thank you. Plus it's about time you get onboard the Khalid-train if you aren't already.
Tinashe – "Faded Love"
I told y'all Tinashe was coming and she has yet to disappoint. This follow up single to "No Drama" is equally as good in its own unique way – and she still snatches edges with her dancing. Sidenote – wtf is a "Vertical Video"? Is this the wave of the future: music videos we watch on our iPhones without evening having to flip our phone horizontal? Seems pointless but hey – cute vid either way.
ALMA feat. MØ – "Dance For Me"
One of the artists I've been introduced to through Charli XCX just delivered a solid mixtape of six new songs. Miss ALMA has a fun neon aesthetic and reigns from Sweden (like pop genius Tove Lo). If you liked her song with French Montana "Phases" then you should give her a minute of your time – at least listen to this song, my favorite from the new mixtape. Reminds me of the Wii theme song LOL
Jorja Smith & Preditah – "On My Mind"
I've been silently jamming to this song for a while now and just the other day I see Jorja on the cover of the latest ASOS catalog: I think we'll be seeing a lot more of her in 2018. I think she's pretty representative of where music seems to be heading sonically, and I think her debut album will be as successful as artists like SZA and Kehlani.
Kendrick Lamar & SZA – "All The Stars"
A two in one: a catchy song and a shameless plug for the Black Panther movie. If you've yet to see this film, go out this weekend and get your life – SO good! And stay through the end of the credits not only to hear this bop, but also the two post-credit scenes. Did y'all know she isn't even a fan of her own album CTRL? How crazy cause I still listen to it nearly every day. Could you imagine not enjoying a masterpiece? RIP.
Victoria Monet – "Freak"
Break out ya Freakum Dress and get down and dirty to this song, ladies and freaks. I've been repping Victoria since she opened for Ariana Grande's most recent tour and she's yet to disappoint with her newest EP Life After Love.
RAYE feat. Mabel & Stefflon Don – "Cigarette"
This is just RAYE's most recent single but she's got some bops in her repertoire if you care to check her out. If anything I just really dig the visual aesthetic of her cover art tbh.
Whethan feat. Due Lipa – "High"
Dua continues to prove to us that she's here to stay and here to slay, yet America STILL choses to turn a blind eye.  #MakeDuaHappen2018 – also it's taken me literally five years but I've finally finished the third book and can finally go see the third 50 Shades movie.
Rina Sawayama – "Take Me As I Am"
Wow. Never expected a song to snatch me bald like this. It's nostalgic yet fresh at the same time. I'm so happy I was introduced to Rina recently because she's been blessing my eardrums ever since. Get into these 90's R&B vibes. Reminds me of the songs from my Girl Power playlist on Spotify *wink*
Snakehips feat. Anne-Marie – "Either Way"
Like who is this Anne-Marie girl? At first we couldn't escape that "Rockabye" song and now out of nowhere she's featured on like 10 new songs? Also still shook I've gone this whole time thinking the guy's name was Snake SHIPS not HIPS – RIP me – but check out his remix of "The Cure" cause it's a banger.
Kelela – "Frontline"
Get into this SIMS fantasy!!! while simultaneously supporting Kelela and her flawless music. #StopSleepingOnKelela2018
DJ Khaled feat. JAY Z & Beyonce – "Top Off"
I'm just going to leave this here, not because I like this song (because I kind of don't *gasp*) but it's fresh off the press (literally came out today) and because it potentially hints that the rumors about a Jay&Bey joint album/tour are becoming more and more plausible – be on the look out for an announcement in the coming weeks tbh.
I mean, you're going to tell me that Beyonce is going to have over a year to prepare for her comeback after having TWINS, following the success of Lemonade (and 4:44) and cancelling a major festival performance all to NOT prepare something special for Coachella? Oh chilllle.
---
Cover Art Copyright FAMM 2018. This blog serves no commercial purpose and all links and media belong to their respective owners.