I'm back bitches.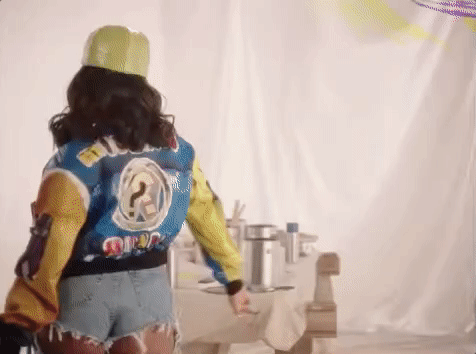 Here to give you a look into what I've been excessively overplaying this past month – oldies, newbies, goodies, etc. You can follow my playlists on Spotify here, otherwise, buckle up and let's get started.
---
Zedd (feat. Maren Morris & Grey) – "The Middle" 
I have yet to stop screaming this song at the top of my lungs. This is Stay (feat. Alessia Cara) 2.0 and I'm totally here for it. I absolutely geek out for Zedd's vocoder effect in the chorus of both songs. My sister saw Maren Morris in concert and talks about her all the time, and I'm still like who tf is this BUT this is banger so homegirl has my attention.

Lady Gaga – "Joanne" 
This song is bittersweet because 1. It means the Joanne era is coming to a close, but 2. That also means new music is on the horizon (likely before her Vegas residency in December). What a perfect way to close out the album too? A song written about her late aunt Joanne from the parent album of the same name, also dedicated to Auntie Jo. I know I'm biased towards LG, but you can't deny her vocal abilities — especially when she's on the piano. Did y'all know she recorded this version of the song in just one take? Legends only.

Ansel Elgort – "Supernova"
Who told Baby Driver he could make music? Although, let me not get ahead of myself, it's pretty catchy. I imagine he came up with one line, went to RhymeZone, then just went ham with every possible word that fit the syllable scheme. You have to give it to him, it's not a terrible song. But then again, the song features a damn JAZZ. FLUTE. SOLO.

Tinashe – "No Drama"
I told yall Tinashe wasn't playing around. Mama looks HOT in the music video. Her dance moves are fire too. That blonde wig? GURL. And don't worry, there's more music coming soon! And if this is any preview of what Joyride will sound like… ladies, we stan. (We'll even forgive her for collaborating with Offset – he's certainly caused some drama-ma lately skrrt skrrt)

Dua Lipa – "IDGAF"
Now I don't want to jinx it, but guys, I think Dua might be on the verge of finally happening in the USA… this is great news! That means America is waking TF up. And The Team Dua vs. Team Dua music video is cute too (I can't help but think the color scheme resembles Tide Pods). Let's keep the ball rolling and support our queen this weekend as the musical guest of Saturday Night Live!

Kim Petras – "Faded" 
Her voice sounds literally identical to Charli XCX, but her music stands its own ground. This song gets stuck in my head every time the second it starts playing. We love a good bubblegum pop song. (The music video is cringey but you can't win 'em all)
Bruno Mars (feat. Cardi B) – "Finesse" 
What a masterpiece. The looks, the vibes, the colors, the moves, the references, everything is so on point.

Khalid – "8TEEN"
One of the more up tempo songs from his debut album – partially why it's one of my favorites. I will always appreciate a song that is so basic at its foundation: It just blows my mind how people can turn the simplest lyrics into the catchiest songs out there. To put it one way, it's as if exactly what messages they were trying to say just so happened to rhyme perfectly at the same time – if that makes sense? Whatever, I'll shut up…

Rudimental (feat. Jess Glynne, Macklemore & Dan Caplen) – "These Days"
Jess Glynne's voice is just something else. And good ole Macklemore is still trying it. We all need those downright feel good songs every now and then.

Justin Timberlake – "Supplies"
I don't know if I hold a special bias over the Super Bowl Halftime Show since Lady Gaga annihilated my existence last year and literally nobody could ever possibly top that in my eyes – but, much like the list of 85 People Who Are Sexier Than Blake Shelton who all would've been a better choice for "Sexiest Man Alive," I could compose a lengthy list of people I'd rather see trot around the Super Bowl Halftime stage than Justin Timberlake. I have to admit my distaste for JT is slowly exiting out the backdoor with its head down as I remember how much I actually liked his last album, The 20/20 Experience, but I am still just not 100% onboard the Man of the Woods train??? This song is the only one of the three he's released recently that I can stomach so there's that, let's move on…

Kylie (freaking) Minogue – "Dancing"
We love a good comeback. (And a good Joanne-vibes track at that). Can't Get YOU Out Of My Head, Miss Minogue.

Betty Who – "Ignore Me" 
Girl is putting in WORK. We got a full new album release from her just last year and she's already blessing us with new music.

Anna – "Valerie"
This song just makes me smile. Anna brings a new vibe to the song originally performed by The Futons – who? you may ask, I don't know either – but made more popular by Amy Winehouse which we all know and love.
I met Anna through one of my best friends in high school and next thing I know she's moved to Tennessee and has her own song on Spotify! How incredible. You go girl! Everybody check out her single "Valerie" on Spotify below:
---
Featured image Copyright 2018 Atlantic Records. This blog serves no commercial purpose and all links and media belong to their respective owners.