This is me straying away from telling travel stories from this past summer and writing about other topics that interest me. And if you know me, you know that I love music and have curated quite the extensive music catalogue – much of which consists of lesser known artists that make people say "What the hell are we listening to?" when I have the aux cord (then I catch you jamming to these songs two weeks later, y'all ain't slick). So if you are looking for music suggestions – or maybe just a few laughs – I've got you covered!
---
It's almost 2018 and if you are not on board with Charli XCX then you are missing out on your best life. If you're drawing a blank, I'm sure you're at least familiar with one of her biggest hits "Boom Clap" – at least we hope.
Charli has been around for quite some time – most likely right under your radar. Did you know she penned the lyrics for the Selena Gomez song "Same Old Love" and Jidenna's "Classic Man?"
She's also featured on a few songs for other artists including:
The bop heard round the world "I Love It" by Icona Pop. It was technically released in 2012, but it seems like it just infiltrated nearly every platform possible for the entire beginning of the 2010's decade. I guess the girl just knows how to make a long-lasting, catchy pop song – we don't care, we love it.
Then there's the 2014 jam-in-a-can "Fancy" by Iggy Azalea. Equally successful and mutually overplayed on the radio airwaves. And on top of that, Charli was able to somehow make Iggy less insufferable, and that's an accomplishment by itself. It also spawned this Clueless-inspired video and gave the girls Halloween costume ideas for the year.
And most recently, we got "Dirty Sexy Money" by David Guetta and Afrojack. This song kind of came out of nowhere, and for seemingly no reason, but we're not mad about it. I guess it's just further proof that Charli can do no wrong in creating A+ pop songs.
---
Going all the way back to her 2013 debut album, True Romance, she had minimal mainstream coverage so you've almost certainly missed out on songs like "Nuclear Seasons," "You're The One" and "You – Ha Ha Ha".
And then just a year later she blessed us with her second album, Sucker, which gave us a handful of pop-meets-punk masterpieces: "Break The Rules," "Breaking Up," "Gold Coins," "Famous," "Hanging Around," and "Caught in the Middle" to name my personal favorites.
She enlisted the help of (relevant at the time) Rita Ora for the certified bop "Doing It." Complete with melodies that get stuck in your head and a chorus to make you do one of these numbers: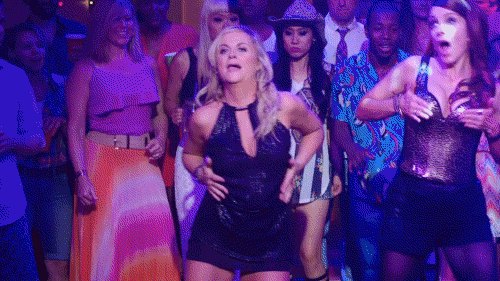 ---
Now that we're up to date, we can talk about one of the best pieces of work released in 2017. Her mixtape, Number 1 Angel, has single-handedly paid off my credit card debt, made me lose 20 pounds and cured me of seasonal allergies over night – and plot twist – this Friday, December 15, she's doing it all over again with yet another mixtape, titled POP2.
*meltdowns ensue all over the twitter-sphere*
Complete with features by Tove Lo, Carly Rae Jepsen and ALMA to name a few. There's an artist collaboration on practically every song on the tracklist. Charli is truly giving her fans what they want – and we're soon to reap the benefits!
But put a pin in that until Friday, and back to Number 1 Angel, the mixtape that gave us the next national anthem "Babygirl" featuring Uffie. And then there's "ILY2," which could put any record atop Billboard's Hot 100 to shame. And "3AM (Pull Up)" featuring MØ, made perfect for singing at the top of your lungs in the car, shower, work cubicle, etc.
I'm telling you, get into this gig if you're down to have the hair completely ripped out of your skull.
Bops on bops on bops, nonetheless. And we have another mixtape to look forward to in just a few days! What a time to be alive (barring the rest of the music doesn't sound like her most recent release from the upcoming project – "I Got It (feat. Brooke Candy, Cupcakke & Pabllo Vittar)" – it's okay, we all make mistakes)
---
She's also released a few promo singles for her upcoming third album (yes, a mixtape and a new album coming in the near future – she's a generous queen, ask Miss Ellen).
One of these promo singles, "Boys," was accompanied by a music video enlisting the help of a lot of boys, including but not limited to: Diplo, G-Eazy, Joe Jonas, Mark Ronson, olympic diver Tom Daley, YouTuber Cameron Dallas, and Instagram's "The Fat Jew" (if you don't know who that is – you're not alone).
Did I mention Charli directed the music video? What can't this girl do, I genuinely need to know.
---
Sidenote: One of my favorite things about Charli is she seems to have the coolest friends. She has this large posse of fellow music queens that rivals anything the Taylor Swift girl group ever tried to be. Props to Charli for not only creating brilliant pop music but also bringing light to a number of underground pop stars that are just begging to be discovered – we love a good charitable sis helping out the lesser known artists!
---
In sum, here is a list of Charli XCX songs that you're going to wish you'd heard of years ago:
"Nuclear Seasons"
"SuperLove"
"Breaking Up"
"Doing It (feat. Rita Ora)"
"Famous"
"Hanging Around"
"Caught In the Middle"
"Drop That Kitty (feat. Charli XCX & Tinashe)
"Secret (Shh)"
"3AM (Pull Up) [feat. MØ]"
"ILY2"
"Baby Girl (feat. Uffie)"
"After the Afterparty (feat. Lil Yachty)"
"Boys"
"Dirty Sexy Money (feat. Charli XCX & French Montana)"
"Out Of My Head (feat. Tove Lo & ALMA)"
Hurry and add them to your playlists now, or follow my "Lady Wood" playlist for all the jams listed above and over 200 more songs by related artists for 10+ hours worth of Charli vibes.
And don't forget POP2 comes out on Friday aka you better hide or say goodbye to all your wigs!
*Amazon Primes an order of wig glue*
---
This blog post is meant as a commentary/critique/review and has no commercial purpose.